Best Powdery Fragrances For Ladies – Full Guide
Powdery fragrances are a perfume class that has gained a lot of reputation over time. However what made these powdery fragrances so good? And what are the best powdery fragrances for girls?
Its popularity could perhaps have a scientific explanation. Powdery smells have been shown to have a pleasant effect on our mood, which is perhaps why customers are drawn to them. The majority of participants in the survey said that entering a room scented with classic perfumes such as Chanel No. 5 or Johnson & Johnson baby powder brought back happy childhood memories.
Powdery perfumes today don't smell like talcum powder or baby powder; instead, they might range from musky to woodsy to floral. They're exquisite yet fresh and sophisticated enough to wear on a daily basis, and there's something in this category for everyone. We've picked together the greatest powdery perfumes for the modern woman below, from oldies to current scents.
What Characterizes a Perfume as 'Powdery'?
Chanel No 5 is perhaps the most recognised and iconic powdered perfume. This dry, sweet, and floral perfume is the epitome of what a traditional 'powdery' fragrance should smell like. Nonetheless, it is only one conceivable stylistic variation. Power perfumes are divided into two categories: talcum powder and face powder.
Talcum Powder
Those in the talcum powder category are frequently sweet and are sometimes known as 'baby powder' scents. They use components like vanilla and lavender and have a lighter, more refreshing aroma than 'face powder' perfumes. Many people find these scents nostalgic and report that they make them feel peaceful or even soothed.
Makeup Powder
Face powder perfumes, on the other hand, are typically more subtle and delicate, focusing on muskier notes and uncommon components such as ambergris. As a result, they have a more mature and sexy vibe to them than talcum powder perfumes.
What Are Powdery Fragrances And How Do They Scent
Powdery scents are intriguing, to say the least. There isn't a powder to be careful of, unlike other scents. For example, a vanilla perfume has a vanilla aroma. This is not the case with powdered scents.
The powdery sensation in perfume can be created by a variety of distinct notes. Iris, violet, and musk are some of the most common notes that give a powdery feel. A combination of creamy notes, such as vanilla, with something like a woody note, on the other hand, can create a powdery sensation. In general, these powdery tones combine to create a smell that is almost lipstick-like.
But what is it about these powdered smells that appeals to you? Powder does not appear to be a really attractive scent. The converse, however, is plainly correct.
A powdered aroma is relaxing and refreshing, and it makes you smell like you've managed yourself nicely. It's not uncommon for a perfume's powdery feel to be accompanied by a host of other notes, all of which combine to create a lovely aroma. Here are the best powdery perfumes for girls, in no particular order!
#1. Xerjoff Deadly Charme
Scent: Xerjoff Deadly Charme is a feminine fragrance with a powdery, spicy aroma. With various flowery notes, this scent starts off fresh. These floral components give the scent a powdered, crystalline, and almost candy-like quality.
Saline, aquatic-like aroma emerges only a few moments after the door opens. However, as the scent dries down, it becomes significantly hotter and darker. You're left with a very seductive perfume with a recent and powdery opening and a stronger, spicy dry down, with a candy aroma of tobacco reinforced by some spices.
Notes: The notes of Xerjoff Deadly Charme are ambergris, floral notes, powdery notes, spicy notes, tobacco, orris root, and aldehydes.
Best for Xerjoff Deadly Charme is an incredible perfume which you can really put on all yr long. The recent opening makes it nice for the hotter months and the richer dry down makes it nice for the colder months. To ensure that, although, to use an acceptable variety of sprays in line with the season. All year long, that is the right perfume for a proper, dressed-up occasion. This perfume has a really luxurious vibe that makes it slot in completely with a proper setting. Nevertheless, you too can put on it casually as well, as long as you gown up a bit. In case you're on this perfume, you'll be able to check it out over here on Amazon!
#2. Christian Dior Feve Delicieuse
Smell: Christian Dior Feve Delicieuse is a lovely perfume with a sweet, rich scent. The aroma of this perfume starts out nutty, creamy, and just powdery, with a nice cherry undertone.
Some floral notes and a plethora of gourmand overtones are added after the opening. The perfume has a rich, creamy aroma with vanilla and cocoa notes that combine effortlessly with the nutty opening. The dry down also has a trace of leather, leaving you with a rich and sweet scent.
The top notes of Christian Dior Feve Delicieuse are bergamot, mint, and lavender. The core notes are jasmine, freesia, and cherry. The bottom notes are darkish chocolate, vanilla, cedar, sandalwood, caramel, leather-based, benzoin, coconut, and tonka bean.
Best for: Throughout the fall and winter, Christian Dior Feve Delicieuse is a wonderful scent to wear. The aroma of this perfume is amazing, with rich and sugary overtones. When the temperature is on the lower side, this smell works best.
During these months, you can wear this perfume casually during the day, but it also works well as an evening out or date perfume. In addition to casual wear, this scent can also be elegant and chic enough for formal wear. If you're interested in purchasing this perfume, you may do so on Amazon!
#3. Narciso Rodriguez Narciso Poudree
The smell is Narciso Rodriguez. Narciso Poudree is a wonderful fragrance with a light, airy scent. This perfume starts with a floral scent and then transitions to a heavy musk scent. This blend creates a pleasant fragrance with a subtle powdery undertone.
After the opening, a woody undertone is added, strengthening the powdery feeling of the perfume. As the perfume dries down, a creamy tonka bean scent emerges, leaving you with a lovely, powdery scent.
Notes: Narciso Rodriguez's top notes Orange blossom, jasmine, and rose are the scents of Narciso Poudre. Patchouli, coumarin, vetiver, and cedar are the bottom notes, with musk in the middle.
Narciso Rodriguez is the best choice. Narciso Poudree is a fantastic perfume that you may wear all year long. The clear and powdery aroma is appropriate for any season, and because it's so unobtrusive, you'll be able to wear it to almost any event.
It's great for everyday wear, but it's also seductive enough for a date or an evening out. And, on top of that, it also works well in a formal context. If you're interested in purchasing this perfume, you may do so on Amazon!
#4. Valentino Donna
Smell: Valentino Donna is a lovely perfume with a mature and deep scent. This perfume begins with a lovely aroma of new blossoms, giving it a flowery and powdery impression.
Shortly after the opening, a wonderful touch of leather-based is introduced, giving the perfume a mature vibe without taking away the femininity. As the perfume dries, it becomes a little sweeter. This is because to the overtones of vanilla and patchouli. Finally, you're left with a floral, powdery, and slightly sweet perfume that's sophisticated and feminine.
The major note to be mindful of in Valentino Donna is bergamot. The centre notes are iris and Bulgarian rose. The base notes are vanilla, leather, and patchouli.
Best for: Valentino Donna is a wonderful smell to wear in the winter, spring, and fall. Although this perfume has a strong scent, the lightness and freshness of the florals help to balance it. It is suitable for use during the winter months due to the freshness undertone in an otherwise heavy perfume.
This perfume is ideal for everyday usage throughout these months, but it's also suited for the workplace or any other formal situation due to its mature sense. If you want to buy this perfume, you may do so on Amazon!
#5. Creed Love In Black
The aroma of Creed Love In Black is enticing, with a spicy floral scent. A rush of iris and violet greets the floral scent of this perfume right away.
These blossoms have a powdered undertone that makes them hotter and gentler. Various spices are added after a short period of time, resulting in a vivid, almost soapy scent. This complements the powdered florals that came before it well. A syrupy blackberry undertone appears in the dry down, giving the perfume weight and depth.
The top notes of Creed Love In Black are cedar, lavender, and wildflowers. The predominant notes are musk, cloves, and iris. The bottom notes are rose and blackberry.
Love In Black by Creed is a beautiful spring, fall, and winter smell. The weather is cool and breezy throughout these months, which is ideal for a powdery, spicy perfume like this.
This perfume is appropriate for using on a regular basis during these months because the florals and spices produce a joyous attitude. This perfume, on the other hand, has an air of sophistication about it that makes it suitable for the workplace. If you want to buy this perfume, you may do so on Amazon!
#6. Guerlain l'Heure Bleue
L'Heure Bleue by Guerlain is a beautiful perfume with a powdery, spicy scent. This scent starts with a few citrus notes before swiftly transitioning to a flaming, spicy scent. Shortly after the introduction, a slew of flowery notes appear, giving it a wonderful powdery feel.
The light florals complement the spices' pleasant and inviting scent. This perfume grows a little richer as it dries. The result is a creamy, fluffy, and generally beautiful perfume with musk, vanilla, and tonka bean components.
The key notes in Guerlain l'Heure Bleue are lemon, bergamot, neroli, coriander, and anise. The centre notes are neroli, tuberose, violet, cloves, jasmine, rose, ylang-ylang, orchid, carnation, and heliotrope. The base notes include vanilla, benzoin, tonka bean, musk, vetiver, sandalwood, and iris.
Best for: Guerlain l'Heure Bleue is a wonderful scent to wear during the winter months since it gives you warmth and a nice sensation.
During the cooler months, this scent is appropriate for everyday wear, but it also works well in a formal setting. This perfume is great for chilly, wet days, regardless of the occasion. Overall, it's an excellent smell for any woman. If you want to buy this perfume, you may do so on Amazon!
#7. Frederic Malle Lipstick Rose
Lipstick by Frederic Malle Rose is a lovely perfume with a powdered rose fragrance. The aroma of a lipstick-like rose starts this perfume with an elegant and powdery scent.
A luxurious, high-quality aroma of lipsticky rose sets the tone for this perfume right now. A hot hint of amber is added a short while after the opening, giving the perfume some depth. Although there is a musky undertone present, this scent is primarily about the powdery florals, particularly the rose note.
Grapefruit, amber, white musk, raspberry, vanilla, violet, iris, and rose are among the notes of Frederic Malle Lipstick Rose.
Frederic Malle Lipstick is ideal. Rose is a wonderful perfume that you may wear all year long. The current aroma of powdery rose, accompanied by a heat undertone, creates a wonderful scent that works well in both the cooler and warmer months.
This perfume is appropriate for any occasion throughout the year. Rose's opulent, high-quality scent is appropriate for a more formal occasion. In fact, you can wear this scent on a daily basis. If you're interested in purchasing this perfume, you may do so on Amazon!
#8. Guerlain Shalimar
Guerlain Shalimar is a lovely perfume with a smokey, sweet, and powdery fragrance. This perfume has a more recent opening, with citrus notes and a powdery flowery smell.
A leathery, sweet aroma of vanilla is added shortly after the opening, giving this perfume a unique and lovely twist. There's even a delicate smoky current when the perfume dries down, leaving you with a gorgeous, sweet, leathery, and powdery scent with a sophisticated and female attitude.
Lemon, bergamot, cedar, mandarin, and citruses are the top notes in Guerlain Shalimar. Rose, vetiver, jasmine, patchouli, and iris are the center notes. Civet, musk, tonka bean, incense, opoponax, sandalwood, vanilla, and leather-based are the bottom notes.
Best for: Guerlain Shalimar is a fantastic scent to wear during the winter months. This perfume, albeit still in its early stages of development, is notable for its deep and sweet vanilla and leather-based scents, which make it ideal for cooler weather.
This scent is perfect for everyday wear during the winter months, yet it's still elegant enough for formal occasions. In any case, there's a reason why that particular perfume is so popular. If you're interested in purchasing this perfume, you may do so on Amazon!
#9. Maison Martin Margiela Duplicate Lipstick On
Fragrance: Duplicate Lipstick On by Maison Martin Margiela is a gorgeous perfume with a sweet, lipstick-like scent. This perfume begins with a strong and powdered iris aroma, giving it a lipstick-like texture right away.
After a little period, the perfume is sweetened, giving it a romantic and sexy sensation. As the perfume dries down, a warm, creamy aroma of vanilla and tonka bean emerges, completely blending with the powdered, lipstick-like opening.
Neroli, heliotrope, and bergamot are the top notes of Maison Martin Margiela Duplicate Lipstick On. Galbanum, iris, and orange blossom are the central notes. Patchouli, vanilla, and tonka bean make up the base notes.
Maison Martin is the best choice. Margiela Duplicate Lipstick On is a fantastic fragrance that you may wear all year.
Despite the fact that this scent is just slightly more appropriate for the cooler months, you can surely wear it in the spring or summer. It's a great scent to wear all year, but it also works well at night. You could even put this on for those who want to go on a date. If you're interested in purchasing this perfume, you may do so on Amazon!
#10. Chanel Les Exclusifs de Chanel Misia Eau de Parfum
Chanel, a famous French fashion house founded in 1910 by Gabrielle 'Coco' Chanel, was the epicentre of the fashion and beauty revolution. They have been at the forefront of premium fashion and beauty since then. The scent line also benefited from some of the world's most skilled noses.
The Chanel Exclusives Misia Eau de Parfum is a delightful springtime scent that seamlessly transitions from day to night. Misia Sert, a superb pianist and Coco Chanel's acquaintance, inspired this utterly feminine fragrance.
Misia Eau de Parfum is Oliver Polge's first scent for Chanel, and it's a lovely and evocative composition that showcases his gift for telling stories with fragrance.
Iris is prominent, and the powdery notes that run through every stage of its development feel intimate and inviting; this conjures up images of a mature, smart woman's dressing table. This is a delicate scent that lasts a long time and has a mild sillage.
#11. Guerlain Insolence Eau de Parfum
Guerlain, the legendary perfume brand, is recognised for creating unique and sumptuous scents. Founded in 1828 by Pascal Guerlain, this was a family business until Louis Vuitton Moet Hennessey purchased it in 1994. (LVMH). It has since continued to make perfumes that meet the Guerlain family's high standards.
Insolence Eau de Parfum is a powdery, fresh scent that was released in 2017. This perfume is a celebration of typically sweet, powdery, 'female' perfume notes, with an almost aggressively feminine look and aroma. This perfume relies on the creative blending of these elements to optimum effect, with a shockingly small and basic list of components.
This light, delicate perfume lasts for several hours yet has a very low sillage, making it ideal for breezy spring days. It's understated, even quiet, yet it's saved from being uninspiring by an unexpectedly strong note of red berries.
#12 Dior Dioramour Eau de Parfum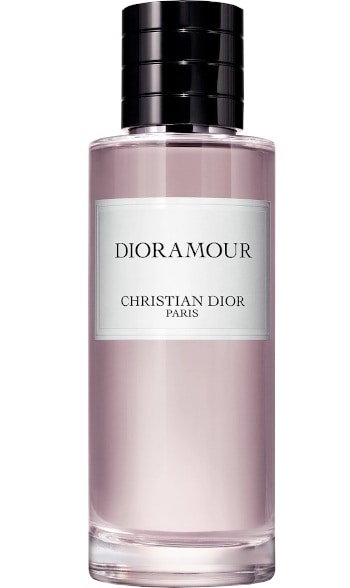 With the introduction of the 'New Look,' French designer Christian Dior soared to popularity. However, the company is now known for its perfumes as well as its fashion. Dior is still going strong 73 years after it originally opened its doors, with no fewer than 241 scents under its belt.
Dioramour Eau de Parfum is a very basic smell in an uncommonly quiet and retiring container. On paper, it appears to be almost too simple to be a Dior perfume, with only three notes. However, when used, it comes to life. These notes are meticulously chosen and mixed to perfection in classic Dior style. The end product is light and airy.
Jasmine soon calms the overpowering iris note, balancing the sweetness with a hint of fresh, almost green flowery scent. Later in the fragrance, the powdery notes take centre stage, mixing in with the jasmine to create a delicate, relaxing tone. Dioramour is a light fragrance with moderate longevity and sillage that is ideally suited for spring and summer evenings.
Should You Have A Powdery Perfume
Powdery scents have become increasingly popular and for good reason. They're universally liked and versatile because of their clear and pleasant fragrances. This makes it difficult to go wrong with these powdered scents, as they'll go in with just about any occasion.
A powdered perfume does not have to be expensive in addition to smelling great and being flexible. There are a few more expensive ones listed above, but Guerlain Shalimar and Guerlain l'Heure Bleue are both reasonably priced.
Overall, buying a powdered perfume isn't required, but it's absolutely something to consider. You will not be sorry for purchasing one. I recommend that you look over the perfumes listed above and decide which of the powdery scents would be perfect for you!
Conclusion –
Best Powdery Fragrances For Ladies
For every occasion, each of these lovely and feminine powdery perfumes gives retro-chic. With retro hair, clothes, and makeup styles in high demand, it's no surprise that the best powdered perfumes are making a comeback.
Choose Chanel No. 5 if you want a classic powdered scent. Take a look at our list if you want to give this traditional style a new spin. Powdery notes, like floral and woody notes, do not have a consistent fragrance and shift depending on the source. Others are chilly and refreshing, while others are warm and spicy. They all have a similar dry sweetness, which distinguishes them as powdery rather than smokey or resinous.
Also Related Topics
https://perfumelead.com/top-perfumes-with-linden-blossom/
https://perfumelead.com/best-colognes-for-older-men/
https://perfumelead.com/easy-perfume-bottle-sizes-guide/
https://perfumelead.com/top-sexy-women-perfume-to-seduce-a-man/
https://perfumelead.com/easy-perfume-bottle-sizes-guide/
https://perfumelead.com/best-powdery-fragrances-for-ladies/
https://perfumelead.com/top-byredo-perfumes/