Nude by Rihanna Perfume Review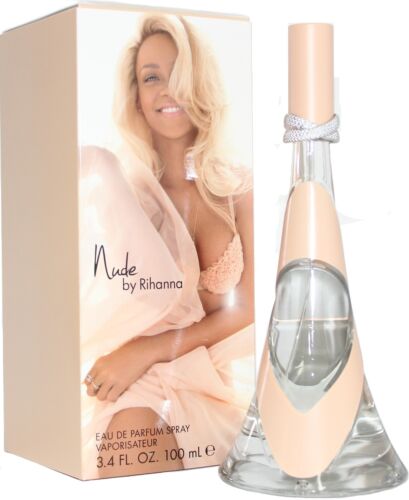 A scent or a collection of fragrances seems to be eventually released by practically every star. It's pretty much a certainty that it will happen with pop stars, even if it doesn't always work out. Rihanna is a rare exception who has released well-liked perfumes over the years, nevertheless. I want to give Nude a thorough review of this article. What scent does this perfume have? How does it function? Does it merit a shot?
Full Review – Nude by Rihanna Perfume
The exquisite assortment of fruit tones in Nude's opening notes are lead by guava, followed by pear and orange. The orange is a combination of mandarin and an aroma that is distinctly orange blossom-like and which will be used more extensively later.
The guava is the main attraction and gives out a fruity, sweet, and tropical scent. Although the overall scent is probably not particularly tropical, the first act definitely has a tropical vibe to it.
However, it begins as a fruity floral and then shifts more into the floral/fruity category. For me, the beginning primarily consists of guava and pear, with gardenia and orange blossom beginning to bloom.
As it continues, I do begin to notice a much stronger flowery scent. It arrives in swells. Gardenia and orange blossoms come first. The vanilla orchid is then discussed in more detail. There is a tinge of creaminess from the sandalwood and a whiff of vanilla when the gardenia enters.
Finally, a combination of orchid, guava, sandalwood, musk, and other floral notes make up the dry down. Although not nearly as intense as the sweetness at the beginning, it is still fairly clean and sweet.
Sillage, durability, and adaptability
The initial sweetness can project itself reasonably well, although the sillage isn't particularly hefty. However, unless you significantly overspray this scent, I don't believe you'll bomb out a place.
The longevity is adequate but not exceptional. It will take effect on my skin for anywhere between 5-8 hours, depending on the strength. Although it leaves a somewhat wide impression, the Rihanna perfume does remain.
I'm not really sure where it falls in terms of season. Due to the fruits, I'd lean more toward the warmer climate, but it really wouldn't be too bad in the winter.
This fragrance definitely leans more toward the younger crowd. like in their early to mid-20s, through college. Instead of wearing anything official or office-like, wear something more casual or out and about. Although beautiful, being naked exudes lighthearted air.
What Motivated Rihanna to Create the Rihanna Nude Scent?
Rihanna acknowledged that she wanted to create a smell that ladies would want to wear whether or not they were wearing clothing. She gave the perfume the name Nude because she wanted a scent she could use bare-chested. Rihanna's Nude perfume complements her daring persona while still being slightly mischievous and sweetly tropical.
Rihanna wanted to create a more delicate perfume that would enhance rather than compete with the scent of your skin. The bright fruity floral scent of the Nude perfume lingers on your skin for hours.
In an interview with PopSugar, Rihanna claimed that she prefers the scent of her perfume, Nude by Rihanna, in the morning. The strong scent of Rihanna Nude is designed to linger for hours and, ostensibly, overnight. It won't dissipate. You therefore have the same feminine scent in the morning as you did at night.
Overall Impression
Am I a fan of this perfume? I do, really. Although some people might not like the sweetness of such a perfume, I do. The opening with the guava, pear, and orange is my favourite. I believe it's fantastic.
It's a somewhat straightforward, tidy, positive, and fruity celebrity scent. For an older woman, being naked probably won't become a daily habit, but it might for a younger lady. This is one of the better celebrity scents, and it's really difficult to go wrong with it.
The performance is admirably strong, and the price-to-performance ratio is really favourable. It has a really alluring aroma. Is it entirely original? Not really, but it is still really fun and different enough.
Notes on Rihanna's Nude Scent
One of Rihanna's lightest fragrances, Nude by Rihanna features a fruity flowery aroma. Rihanna Nude is a sassy, understated combination of femininity that is unmistakably sweet.
Guava, pear, and mandarin combine in the top notes to create a wonderfully tropical blend that is influenced by Rihanna's island upbringing in Barbados. And at first, the guava and pear really shine out.
But after a while, the fruity notes settle into the heart's blend of gardenia, jasmine, and orange blossom. For a perfume that is remarkably delicate and fresh, these white flowers counterbalance the fruity top notes.
Rihanna Nude is a clear, fresh perfume set against a traditional woody base of sandalwood, vanilla orchid, and second-skin musk. The smell can complement your natural aroma without having an overbearing sillage thanks to the second-skin musk.
Nude performance by Rihanna
For a lingering aroma, Rihanna Nude perfume combines high-quality oil concentrations. The scent can easily last six to eight hours and has excellent lasting power. Even the next day, according to Rihanna, you can still smell it.
The aroma is a skin scent that requires close proximity for others to detect because it doesn't emit much sillage. Rihanna Nude was created with the goal of attracting attention rather than taking control of the space.
FAQ's
What scent does Rihanna's Nude perfume have?
The fragrance has a fruity-floral aroma and is mild. Without being too dominant, the fruits complement the white florals perfectly. All day long, this invigorating aroma will keep you smelling delicious.
How long does Rihanna Nude perfume last?
The lifespan of naked perfume is average. Unfortunately, this aroma will only last for around three hours.
When did Nude by Rihanna come out?
The 2012 launch of Rihanna's Nude has established itself as a standout fragrance in her line.